Osteopontin antibody
Cat No. GTX28448
Application:
WB, ICC/IF, IHC-P, IP, ELISA, IHC
Reactivity:
Hu, Ms, Rat, Dog, Pig
Product Note:
Osteopontin is directed against human osteopontin. The antibody recognizes the full-length osteopontin protein (which runs at 66 kDa on westerns), as well as the C-terminal fragments of both thrombin and MMP-cleaved OPN. The 32 kDa MMP-cleaved C-fragment is recognized, but not the 40 kDa N-terminal fragment.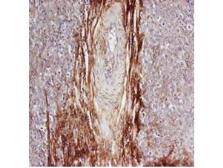 images (2)