Serotonin antibody [5-HT-H209]
Cat No. GTX31099
Application:
ICC/IF, IHC-P, IHC-Fr, IHC
Reactivity:
Hu, Ms, Chk, Pig, RMK
Specificity/Sensitivity:
Reacts with serotonin in a broad range of normal, hyperplastic and neoplastic tissues. Serotonin is also called 5-hydroxytryptamine. The antibody is of particular importance in identifying primary and metastatic carcinoid tumors expressing serotonin. This antibody may be a useful tool for characterization of carcinoids. In a study of 48 cases of adenomas and carcinoid tumours of the middle ear, the labelled tumour cells in 12 cases (25%).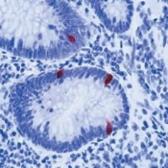 image (1)