Collagen I antibody
Cat No. GTX20292

Application :
WB, ICC/IF, IHC-P, IP, ELISA
Reactivity :
Hu, Ms, Rat, Bov, Hm
Product Note :
Typically negligible cross-reactivity against other types of collagens was detected by ELISA against purified standards.  Some class-specific anti-collagens may be specific for three-dimensional epitopes which may result in diminished reactivity with denatured collagen or formalin-fixed, paraffin embedded tissues.   This antibody reacts with most mammalian Type I collagens and has negligible cross-reactivity with Type II, III, IV, V or VI collagens.  Non-specific cross-reaction of anti-collagen antibodies with other human serum proteins or non-collagen extracellular matrix proteins is negligible.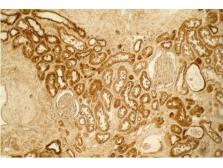 images ( 3 )