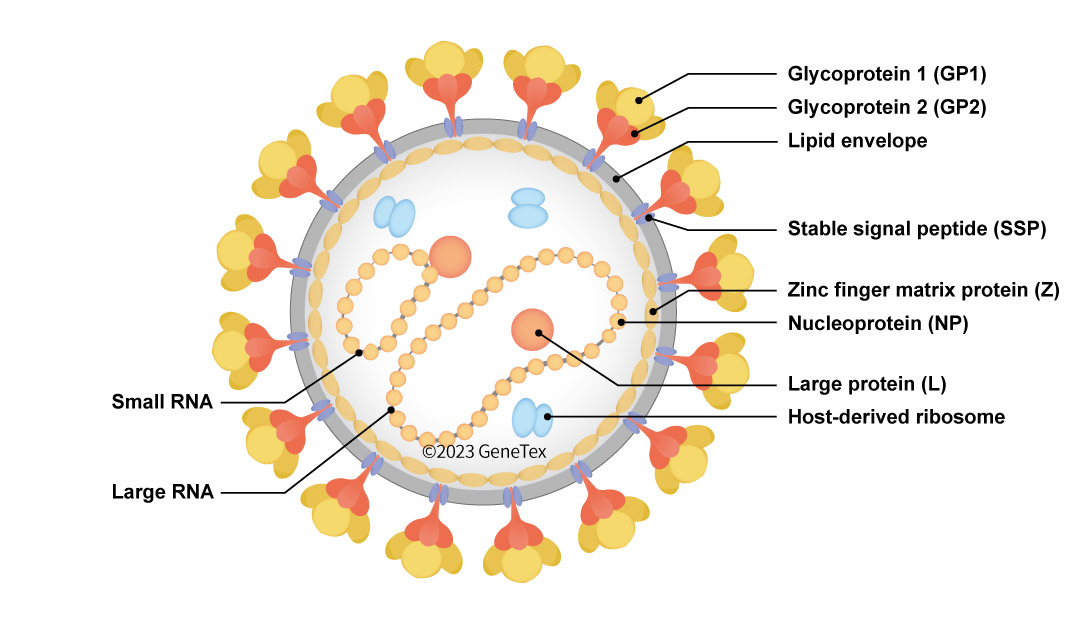 Figure 1. The LASV virion
Lassa virus (LASV) is the etiologic agent of Lassa fever, a viral hemorrhagic fever (VHF) with a high case fatality rate (between 20-70%) associated primarily with countries in West Africa. Belonging to the Mammarenavirus genus of the Old World Arenaviridae family, LASV is endemic to rodent (most notably Mastomys natalensis) populations in these regions and is characterized by frequent spillovers to humans through exposures (inhalation or contact) to infected feces, aerosolized urine or contaminated dust, or during preparation/consumption of infected rodents as food. Human-to-human transmission has also been described. Though ~80% of human infections are mild or asymptomatic, perhaps 20% lead to Lassa fever with 40% of those having a very severe clinical course with orifice and mucosal hemorrhage, circulatory shock, and multi-organ failure (1). With at least seven lineages found in West Africa, there is presently no LASV vaccine. Ribavirin has shown some clinical benefit, yet therapy is primarily supportive.
LASV is an enveloped virus with a genome consisting of two ambisense, single-stranded RNA segments (Large (L) and Small (S)) that each code for two proteins, with all four proteins being multifunctional. The ambisense RNAs give rise to early translation of the nucleoprotein (NP) and large (L) protein (RNA-dependent RNA polymerase) components followed by later translation of the glycoprotein complex (GPC) proteins (GP1 and GP2) as well as the zinc-binding protein (Z, matrix protein) (1). Interestingly, LASV particles also contain host ribosomes.
LASV is attracting more global attention due to the continuing geographical spread of its rodent reservoirs, increasing outbreak frequency, its importation to other continents, significant potential for weaponization, and the genesis of new lineages in West Africa. Reliable point-of-care diagnostics, targeted therapies, thoughtful vaccine(s) development, and effective rodent control strategies are among the essential approaches to control LASV-related morbidity and mortality.
GeneTex continues its commitment to manufacturing quality reagents for infectious disease research with new recombinant monoclonal antibodies against the LASV NP protein (e.g., Lassa virus Nucleoprotein antibody [HL1392] (GTX636832) and Lassa virus Nucleoprotein antibody [HL1390] (GTX636830)) to expand its current LASV reagent catalog. Additional products for detection of other LASV proteins will be forthcoming. Please see the highlighted product images and a complete LASV antibody listing below.

Figure 2. LASV genomic organization
| | | |
| --- | --- | --- |
| Lassa virus Nucleoprotein antibody [HL1392] (GTX636832) | Lassa virus Nucleoprotein antibody [HL1390] (GTX636830) | |
| | | |
| | | |
Reference:
Nat Rev Microbiol. 2023 Feb;21(2):87-96. doi: 10.1038/s41579-022-00789-8.