P Glycoprotein antibody [C219]
Cat No. GTX23364
Application :
WB, ICC/IF, IHC-P, IHC-Fr, FACS, IP, ELISA, IHC
Reactivity :
Hu, Ms, Rat, Zfsh, Bov, Hm, Carp
Specificity/Sensitivity :
Recognizes an internal, highly conserved amino acid sequence (VQEALD and VQAALD) found in both protein isoforms, P-glycoprotein and MDR3 P-glycoprotein. Specific reactivity to human, mouse, rat, dog and primate. Detects bands of ~170kDa (MDR1 P-glycoprotein) and of ~140kDa (MDR3 P-glycoprotein) by Western blot.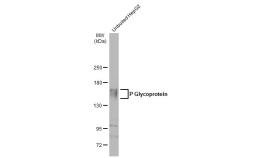 images ( 1 )