Lot-to-lot variability is a persistent quality control (QC) issue that contributes to inconsistent results in assays using antibodies. This is most pronounced when experiments require significant amounts of antibody so that multiple vials are needed, sometimes over extended periods of time. Subsequent discrepancies in the data between different trials lead to difficulties in interpretation and questionable scientific conclusions.
GeneTex's QC Method:
Polyclonal antibodies are commonly associated with lot variability related to distinct immune responses following different immunizations or even altered conditions during affinity purification from the same batch of serum. There are generally fewer concerns with monoclonal antibodies, though hybridoma instability is a constant threat to lot consistency. GeneTex strives to provide highly reliable antibodies through not only our "Five-Pillar" approach, but also through stringent side-by-side testing to ensure lot-to-lot performance. This validation protocol is fully incorporated into GeneTex's QC standards for both polyclonal and monoclonal antibody development. Please see examples below.
Application-dependent Antibody Dilution Recommendations
GeneTex provides recommended antibody dilutions for validated applications on each datasheet. However, if your cell line is different from the referenced cells or the experiment is complex with limited sample amounts, we suggest performing a focused series of titrations to determine the optimum dilution for each new antibody lot.
Antibody Storage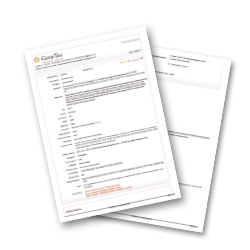 Proper storage conditions are essential for maintaining reagent stability. We direct researchers to follow the storage parameters outlined on each datasheet, and as a general rule to avoid freeze-thaw cycles when long-term storage is required. Aliquoting antibody stocks is recommended, particularly for those at low concentration. If the antibody is conjugated to a fluorophore, ensure that it is stored in the dark to minimize photobleaching.