pan Cytokeratin antibody [PCK-26]
Cat No. GTX26401
Application :
WB, ICC/IF, IHC-P, IHC-Fr, FACS, Dot, Blocking, IHC
Reactivity :
Hu, Ms, Rat, Rb, Goat, Sheep, Bov, Cat, Dog, Hm, Chk, Gpig, Pig, Carp, Lzd, Snk
Specificity/Sensitivity :
The antibody recognizes an epitope located on the Type II cytokeratins 1, 5, 6, and 8. PCK-26 is a broad spectrum antibody which reacts specifically with a variety of normal, reactive, and neoplastic epithelial tissues. The antibody reacts with simple, cornifying, and non-cornifying squamous epithelia and pseudostratified epithelia.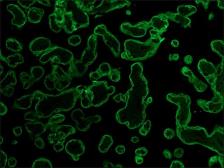 images ( 2 )